PROTOCOL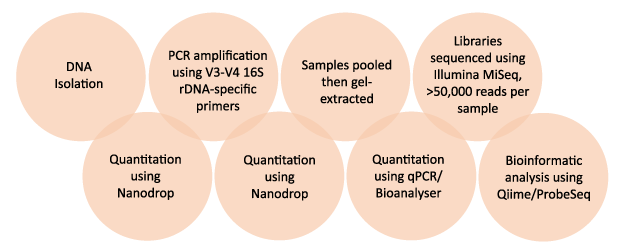 A modification of the protocol as described by Caporaso et. al (2011) is used and is available upon request.
10-50 ng of DNA are PCR-amplified using V3-V4 primers and 5 PrimeHotMaster Mix.
PCR samples are purified using AMPure beads.
100 ng of each library is pooled, gel-purified, and quantified using a bioanalyser and subsequently with qPCR.
12pM of the library mixture, spiked with 20% Phix, is run on the MiSeq.
The V3-V4 primers are used as follows:
~341F (forward primer)
AATGATACGGCGACCACCGAGATCTACACTATGGTAATTGT
CCTACGGGAGGCAGCAG
~806R (reverse primer)
CAAGCAGAAGACGGCATACGAGAT
NNNNNNNNNNNN
AGTCAGTCAGCC
GGACTACHVGGGTWTCTAAT
Sequences of the primers are in bolded italics
12 N's (in red) designate barcode sequences
These primers are slightly different from those primers used by Illumina.